Make your employees aware of security risks
An expensive alarm system is no use if you leave the back door open. The same goes for your IT: if your employees are unaware of IT threats, hackers can get around any security solution.
Recognising and preventing cybercrime
You can provide your employees with comprehensive phishing training through Cheops Managed Security Awareness. With the help of short online videos, mailings and phishing simulations, they become increasingly skilled in recognising, reporting and preventing cybercrime. Moreover, we not only make your users aware of IT threats, but also of specific risky habits.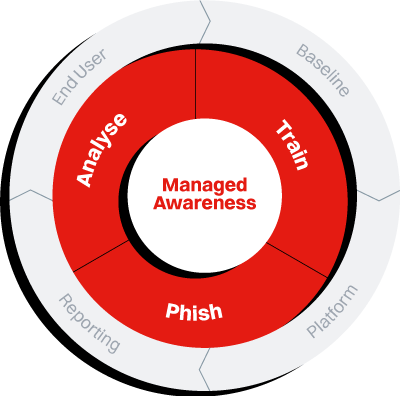 Personal phishing courses based on risk scores
The way users respond to a fake phishing email affects their individual risk score and determines the level of their personalised training plan. The level is constantly adjusted. If the user responds in a safe way, we make the next phishing email more difficult to see through. If they get caught out, then the next email is more transparent. In this way, your employees learn all the time.
Reporting with a clear ROI
You can closely follow the current status yourself through an online portal. Your IT department does not have to install or manage anything. At the end of the course, we compare the users' risk scores with those recorded at the start. You then receive a comprehensive report with clear graphs and statistics about the impact of the training courses and plans.