By outsourcing the management of your hybrid cloud to a trusted partner, your data becomes available anytime and anywhere in a secure way. So you can focus on your business.
Why hybrid cloud?
For most Belgian companies the best approach is the hybrid cloud model. It combines the control of a private cloud with the flexible capabilities of the public cloud.
Cost savings: you only pay for what you use
Control: you know where your data are and you can control the technical setup
Peace of mind: your IT management is outsourced to a single trusted partner
Productivity: work (together) efficiently online anywhere
Flexibility: IT services adapted to your needs at the time
Versatility: you can respond quickly to new market conditions
Security: your security and business continuity are guaranteed by your cloud partner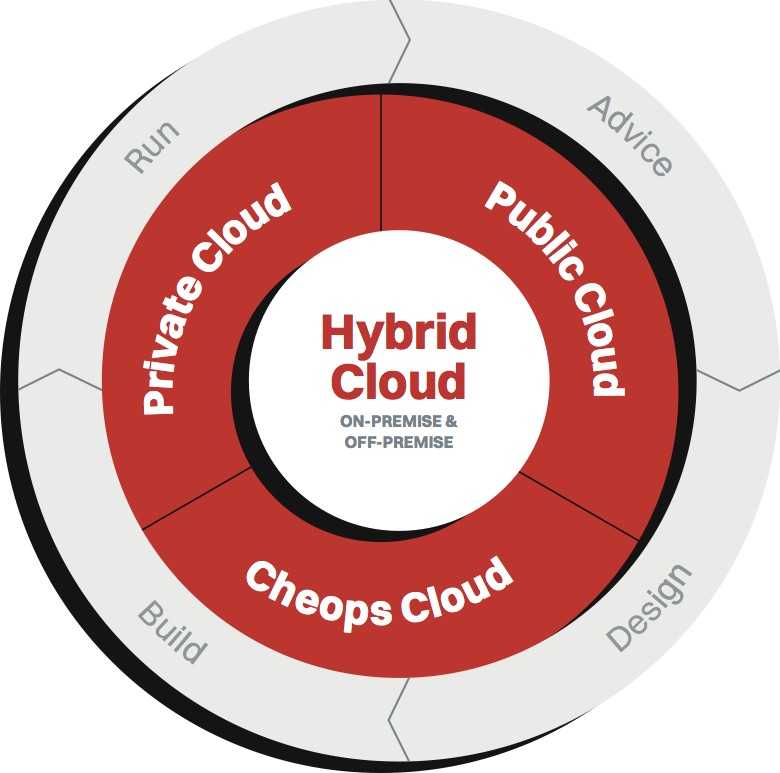 Due to its great flexibility, moreover, the hybrid cloud is much more than just a way of saving costs; it means support and a boost to innovation in your company.
To take full advantage of the hybrid cloud, it is important to have a well-thought-out approach. That's why before you get started on a managed hybrid cloud, we will help you draw up your individual cloud roadmap. This includes determining which applications you would prefer to keep within your company's walls and which can go to the public cloud or the Cheops cloud.
The management of the hybrid cloud
The hybrid cloud offers you the great advantage of being able to decide exactly where you house which data: a part of it on-site, a part in the public cloud and another part in the Cheops cloud, for example. But how do you then manage all these data in a consistent way? You can rely on Cheops for the management of all your data, wherever they are stored. The location and technology used make no difference at all: Cheops provides private, fast and secure connections between different cloud platforms and is responsible for all monitoring, so that you have a single point of contact. You are guaranteed the best service according to the agreements we make with you beforehand.
Success at Hubo
Discover how Hubo takes the lead with hybrid cloud and opts for co-location in the Cheops Cloud
Read the case study
Take the lead with Hybrid Cloud
Want to know more about a hybrid cloud environment and how to deploy this as an engine for innovation?
Download the eBook